Plenary Council 2020

In preparation for the 2020 Plenary Council, the NCPR was invited by the Australian Catholic Bishops Conference to assist the Plenary Council Executive Committee with the collection and analysis of data.
Phase 1 of Journey to Plenary Council 2018‐2020 titled, "Open Dialogue & Listening" ran from May 2018 to March 2019. During this phase, the NCPR helped to collect and collate the submissions from individuals and groups engaged in the discussion and dialogue processes.
A research task group was formed to guide the process of the research over three years. The members of the task group included two members of the Plenary Council Executive Committee, two members of the Australian Catholic Council for Pastoral Research and two experienced researchers, renowned for their expertise in this field.
The NCPR was granted ethics approval for the data analysis of the Plenary Council project by the Christian Research Association Human Research Ethics Committee.
We received a total of 17,457 submissions from over 222,000 participants. The process of analysis which began in March 2019 was a complex one. The first step included a rigorous de-identification of all the data. All key identifiers in the form of names, contact details and other information were removed prior to the analysis. This was followed by entering the data into a qualitative analysis program called NVivo. NVivo allows researchers to read through all the responses and code them into different themes. This was a slow process as every submission had to be read thoroughly.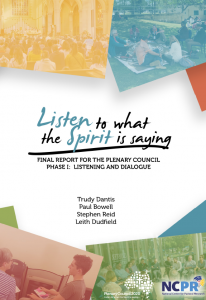 The qualitative analysis of the submissions in Phase 1: Listening and Dialogue  highlighted many emerging themes. This data will help shape the next stage of the Plenary Council journey—working groups, deeper discernment, theological reflection and re-listening. The Final Report can be viewed at this link: LISTEN TO WHAT THE SPIRIT IS SAYING: Final Report for the Plenary Council Phase I: Listening and Dialogue (single pages version)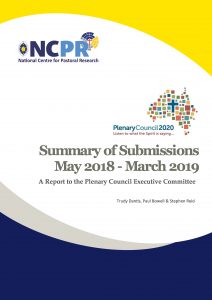 Along with the qualitative analysis, the Plenary Council data also underwent a range of quantitative analysis using SPSS statistical software. This analysis included a detailed demographic examination of participants' age, religious affiliations, cultural back-ground and location. A Summary of Submissions report is now available and can be viewed at this link: Summary of Submissions Report – May 2018-March 2019
Two of our researchers, Leith Dudfield and Paul Bowell wrote an article on the Plenary Council 2020 for Pointers, the newsletter of the Christian Research Association titled, "Plenary Council 2020–The Times They Are A-Changin'". This article can be accessed at this link: cra.org.au/Pointers_29-2e.pdf
The findings of this project will continue to be reported to the Plenary Council Executive Committee and to the Australian Catholic Bishops Conference. They will also be available from the Plenary Council website. For  further information go to http://plenarycouncil.catholic.org.au