The Building Stronger Parishes research project explored how Catholic parishes, in various contexts, use their strengths and available resources to respond to a variety of challenges. The aim of the research was to identify and analyse some of these initiatives in parishes throughout Australia, which could then be implemented in other parishes facing similar challenges. Particular emphasis was given to stories of vitality and hope that bring life to their communities and have an underlying foundation in an ecclesiology of communion.
RESEARCH PUBLICATIONS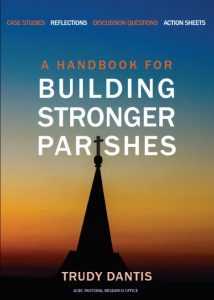 A HANDBOOK FOR BUILDING STRONGER PARISHES: Case Studies, Reflections, Worksheets, Action Plans
A Handbook for Building Stronger Parishes provides excellent case studies, reflection questions, worksheets and action plans to support you and your parish team.
The handbook is now available for purchase from: garrattpublishing.com.au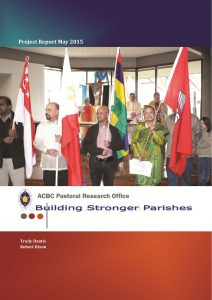 BUILDING STRONGER PARISHES PROJECT REPORT MAY 2015
Trudy Dantis and Robert Dixon
Discounted Prices available. Click on the link below:
https://www.catholic.org.au/shop/acbc-shop#!/~/search/keyword=stronger 
BUILDING STRONGER PARISHES REPORT SERIES
A series of six reports were produced on various aspects of parish vitality arising from the research. The reports are produced in both hard copy and downloadable formats. These are now available at DISCOUNTED PRICES from the ACBC website at www.catholic.org.au/shop/acbc‐shop. Use the search function to search for 'Stronger Parishes'.
The six reports are:
1) Community Building, Welcoming and Hospitality
2) Liturgy
3) Spirituality and Faith Formation
4) Mission, Outreach and Evangelisation
5) Leadership
6) Planning